This Big 5 project is based in the Victoria Falls region. Here volunteer gain hands-on experience in conservation management activities, research projects, environmental awareness, sustainability projects and community development projects.
Once a week you will camp in the bush, make dinner over open fire and live next to the wild animals. An unforgettable experience that you can't miss out!
Wildlife volunteering at the Victoria Falls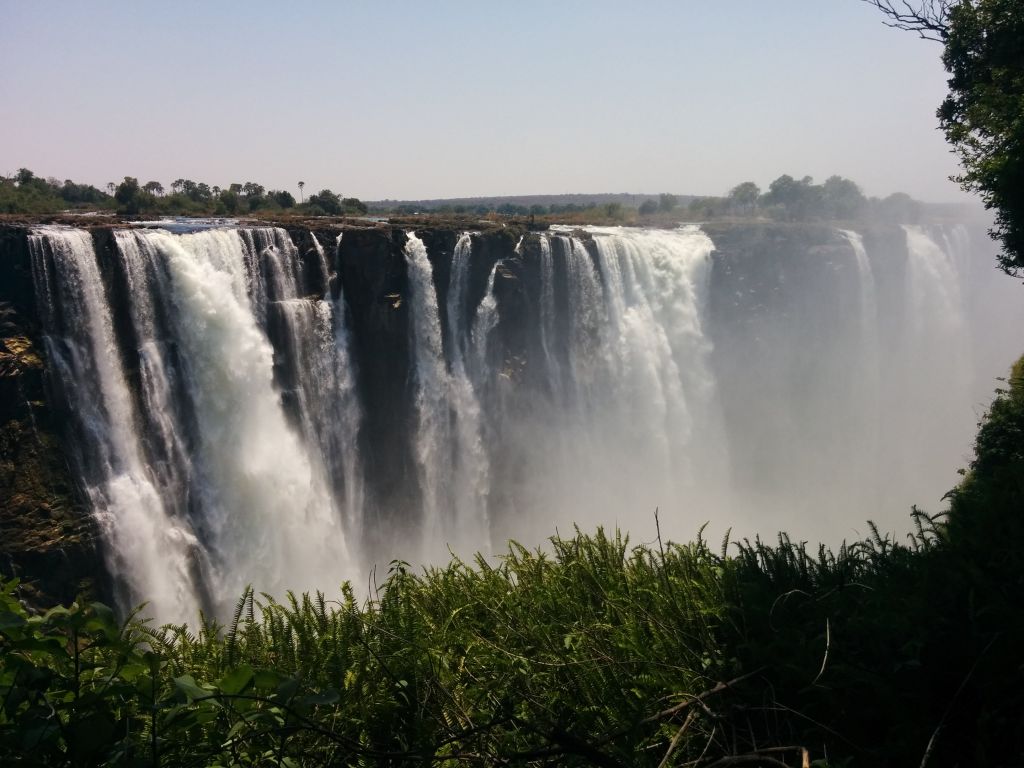 Project fee from EUR 1,350
Your Role as a Volunteer
Each and every volonteer brings a different set of skills, knowledge and values to the programme, therefore the role you play in your volunteering placement will largely be decided when you reach the project after collaboration with Nakavango. The placement will not always be easy. It will challenge and test you, but this is all part of the experience volunteering in a developing country.
As a volunteer to the wildlife conservation project you will be given the unique opportunity to gain hands-on experience in conservation management activities and assist with on-going research in a private game reserve and surrounding areas within Victoria Falls. The reserve is home to a wealth of native wildlife, including 'Big 5' animals-lion, leopard, elephant, rhino and buffalo; and serves as an intensive protection zone for the critically endangered black rhino. Volonteers on the wildlife Conservation project have the opportunity to get involved in conservation managemnet practies, all of which are vital for the successful operation of the game reseve, its surrounding areas and their ecosystems.
Conservation management and research activities may include:
Soil erosion control methods
Waterhole creation, maintenance and monitoring
Game, predator and bird monitoring, tracking and counting
Upkeep of river crossings
Reserve clean-up operations
General clean-up of reserve and surrounding areas
Camping out on the reserve
Watching Rhino supplement feeding
Volunteers on the Nakavango Wildlife Conservation project work in tandem with members of the game reserve team and anti-poaching unit. The Wildlife manager is available throughout the programme to hold discussions and debates on all aspects of conservation during your stay.
The Project's Mission
This conservation project has five major focal areas:
Education – not only the volunteers but the community in which the reserve is based.
Conservation Management – an important part of any reserve.
Conservation Research Projects – to improve knowledge and strengthen the understanding of specific animals, assisting with decisions and action plans.
Community Development – recycling, teaching children and more.
Sustainability – all facilities are committed to being "green" to minimise impact on the environment around them.
How do I book a trip?
You can book your trip with Volunteer Travels by calling us on (+46) 08-23 93 00 or by booking through our website www.theperfectworldtravel.com by clicking on "Book a trip". You can also email us on info@theperfectworldtravel.com. When you have registered yourself we will send you an invoice with a registration fee of £200.00. The registration fee is later incorporated into the trip price and the amount is then deducted from your final invoice. When you have paid the registration fee you are formally registered. You will then receive preparatory information from us in good time to plan your trip.
Your Everyday Life
Orientation
Orientation is hosted by the Victoria Falls team at the volunteer accommadation. The orientation will also give you a chance to meet other volunteers and swap contact details for weekend travel and socializing. Together you will all be taken through a short introduction to tell you more about the reserve.
Accommodation and Food
Volunteers are accommodated in single rooms on site at the conservation center. The conservation centre is situated on a private game reserve and it's not uncommon to see African wildlife grazing throughout the day! The rooms are comfortable and each room is equipped with a single bed, a ceiling fan desk, a chair and storage shelving. Bathrooms are shared among up to four volunteers of the same gender and offer western toilets and hot showers. In addition to the sleeping quarters, the accomadation also offers an open-air communal area with a swimming pool, braai (barbecue) and picnic tables where volunteers can socialize and enjoy meals.
The conservation centre has a 24 hour security guard and a safe is available in the staff office for volunteers to store small valuables. As the reserve is a 'Big 5' area, the property is protected by an electric fence and volunteers are required to ask permission before leaving the facility.
On-site staff cleans the accommodation throughout the week; however volunteers are also required to keep these areas tidy. Laundry services are provided on a weekly basis.Please make sure that your items of clothing etc. are labelled with your name to avoid any confusion while at the camp.
Three meals a day are served except for weekends when Brunch and Dinner are served. Fruit, bread & cereal are avilable all day, and snacks on weekends, prepared by an on-site cook. All meals are mix of western and traditional Zimbabwean food. Please be sure to notify the camp if you have any special dietary requirements. Please note that some meals may be packed and taken out into the field for consumption. If you wish to eat food different than the food provided, you are welcome to buy your own ingredients from the supermarket at your own cost during weekends or town trips. Any meals eaten at restaurants and other places will be for your own cost.
Camp Nakavango is connected to the internet via fibre optics.  You have access to internet using wifi and can also buy local sim cards for cell phones in town or at the airport.
Arrival
On arrival in Victoria Falls by flight you will be met at Victoria Falls International Airport by a staff member from Nakavango. The staff member will be standing in the arrivals area. Once you have been picked up, you will be transported to the volunteer accommadation on the game reserve (15 minute drive from the airport). Here you will be shown around and introduced to the rest of the volunteers on the course with you.
Transport
The most common methods of transport for volunteers in Victoria Falls is taxi or the programme vehicles. Volunteers travel to and from their work site using programme vehicles or walking, depending on the activities for the day. Volunteers will use taxi transport in their free time. To travel into town of Victoria Falls during the weekends will typically cost 30USD for a round trip.
Work and leisure Time
Volunteers are expected to work 5 days a week between 7-9 hours per day. Volunteers generally go out between 7am-11am or 8am-12pm. After lunch and a rest during the heat of the day work begins again from approximately 3pm to 7pm. A typical schedule would be as follow:
6:30am – Breakfast at the Conseration Centre
7:00am – Volunteers travel to the work area
11:am – Work at the placement usally breaks for lunch
3 to 7:00pm – Volunteers resume work on the reserve and end the day with a game drive back to the centre.
7:30pm Dinner at the Conservation Centre
Please note that this schedule will vary depending on the particular project the volunteer is participating on. The general work hours will change according to the season due to the nature of the work being done.
During the evenings, volunteers are able to do their own thing, unless activities have been arranged by the coordinator.
Weekends are off-time, you can choose to either stay at Camp Nakavango, or explore the surrounding area of Victoria Falls and enjoy some of the diverse activities on offer. If you wish to book an activity in Victoria Falls, your facility manager will be happy to advise you and assist you with the booking/s.
Discounted rates on activities are arranged for our volunteers through specific operators! The following are just some of the activities on offer at Victoria Falls:
White water rafting
River-boarding
Upper Zambezi canoe trails (day trails or overnight trails)
Boat cruises
Livingstone Island tours
Micro light flights (operate from Zambian side)
Bungee jumping
Helicopter flights
Hi-Wire activities such as the gorge swing, zip line, flying fox
Horse trails
Village and township tour
Vic Falls cycle tours
Chobe day trips into Botswana
Fishing safaris
Victoria Falls Steam train rides
About Zimbabwe
Zimbabwe means "house of stone" in the indigenous Shona language from the first ancient civilization that arose from what is now known as the Great Zimbabwe Ruins. Zimbabwe's vastness encompasses diverse tourist attractions from Victoria Falls and Lake Kariba to the Eastern Highlands. Zimbabweans are known for being friendly and hardworking despite the many years of hardship under Robert Mugabe's rule.
Practical
Security and Safety
The vast majority of visitors to Zimbabwe suffer no problems but if you have any specific questions we advise you to ask our reservations team when you book. Victoria Falls is rated one of the safest tourist destinations, with tourist police especially dedicated to making sure that all tourists are safe during their visit to the historic and adventurous little town.
Flights
Flights are not included in the tour price and you can choose a travel agency of your choice to assist you with your flight arrangements. Flight details: Your final destination for this project is Victoria Falls, Zimbabwe. You need to book your flights so that you arrive a day before project start which is a Sunday, your depature flight you need to book on a Sunday after the amount of week you decided to volunteer. Please note that if you decide to go before or after your time at the project, our local partners are not responsible for you or providing you with accommodation etc.
Visa Requirements
Some nationalities require that a visa is arranged before arrival. Please be sure to check your status with your local Zimbabwe embassy to establish your visa requirements well in advance to your travel date. It is your responsibility to make sure that you have a visa for the entire duration of your stay at the project. Costs involved with visas are not included in the tour price. Costs incurred by the project because of an expired visa will have to be reimbursed by the volunteer.
Insurance
It is your own responsibility to make sure that your insurance covers illness, injury and theft whilst you are volunteering. Most travel agency's sell a travel insurance that is valid for volunteer work, so be sure to enquire about it when booking your flight tickets. Volunteer Travels does however, supply liability insurance and is included in the price. Liability insurance applies to instances when compensation for damages is demanded of you, as a private person, for unintentionally hurting someone or for unintentionally damaging someone else's property
Vaccinations
Remember to get vaccinated with all the necessary inoculations before this project. Check with a vaccination centre or your doctor for which vaccinations you need. We recommend that you have a full protection against Hepatitis A and B, cholera, and polio. There is malaria in the area that you are traveling to. Please contact your doctor to find out what kind of prophylaxis you should be taking. Please be sure to also have your tetanus and rabies shot up to date as well.
Additionally, Zimbabwe has one of the highest HIV/AIDS rates in the world. We strongly advise against promiscuity while you are traveling anywhere in Africa.