While the number of native animals needing help is increasing, volunteer numbers are not keeping up. Your contribution is enormous as the feeding schedule of baby animals is a busy one and the shelter needs surrogate mums to provide food for the babies and care for them.
Endangered Wildlife Conservation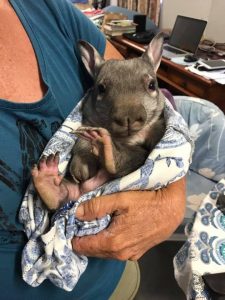 Project fee from EUR 1,140
Your role as a volunteer
The project aims
The Endangered Species Conservation facility manages a number of captive breeding programs and partners with Government authorities, universities and zoological institutions to conduct vital research on Australian wildlife. The facility focuses on threatened species, particularly the Bridled Nailtail Wallaby and Northern and Southern Hairy-nosed Wombats. The facility is the only captive breeding facility for Bridled Nailtail Wallabies in the world.
The centre also provides medical care for injured, sick and orphaned wildlife through its rescue and rehabilitation program. Animals are nursed back to health with the goal of being well enough to be released back into the wild. The facility also supports other wildlife carers who assist with this dedicated work.
The centre delivers a range of wildlife education programs to enable local community groups, industry bodies, school groups and individuals to be actively involved in the conservation of native animals. The programs highlight the importance of maintaining a healthy natural environment to ensure the well-being of our native species.
The facility welcomes students and volunteers from all over the world to learn about Australian wildlife and contribute to the breeding, research and education programs.
Local Partners
As a not for profit organisation, the facility relies on financial support from grants, fundraising, donations and membership fees. Volunteer fees contribute to the cost of food, water and utilities such as electricity.
Our partner has several years' worth of experience in receiving volunteers to Australia from many different countries. Thanks to our cooperation Volunteer Travels can offer you as a volunteer a well-organised and safe experience.
How do I book a trip?
You can book your trip with Volunteer Travels by calling us on (+46) 08-23 93 00 or by booking through our website www.theperfectworldtravel.com by clicking on "Book a trip". You can also email us on info@theperfectworldtravel.com. When you have registered yourself we will send you an invoice with a registration fee of £200.00. The registration fee is later incorporated into the trip price and the amount is then deducted from your final invoice. When you have paid the registration fee you are formally registered. You will then receive preparatory information from us in good time to plan your trip.
Your everyday
Introduction
Volunteers will be contributing to the survival of endangered species that are found nowhere else in the world. Volunteers will help to support animals who require intensive care in order to be rehabilitated and released back into the wild.
Volunteers will be directly involved in the care of approximately 100 animals. Your day will consist mainly of animal husbandry duties, including food preparation and harvesting and cleaning of enclosures. Other activities include enclosure maintenance, tree planting and participation in fundraising events and community education activities.
The animals volunteers will care for include Bridled Nailtail Wallabies, Southern Hairy Nosed Wombats, Northern Hairy Nosed Wombats, Sugar Gliders, Squirrel Gliders, lizards, snakes and birds. Koalas and other kangaroos and wallabies also frequent the project.
Work roster: Two shifts a day, morning and afternoon plus night trapping for 10 days every 3 months
Will I be in contact with the animals?
Volunteers care for many different species of animal although the project mainly cares for Bridled Nail Tailed Wallabies and Southern Hairy Nosed Wombats. Volunteers will be directly involved in the animal's care. You may have the opportunity to physically handle the animals depending on the specific task you are undertaking, for example, you may assist with rescues and releases back into the wild or the trapping of Bridled Nailtail Wallabies for health checks. Some animals like a scratch and if there are joeys in care they require regular bottle feeding, however animal handling will not be a usual part of your day.
Acommodation and food
Single dorm rooms with shared bathroom and kitchen. Food is supplied, however volunteers are required to prepare their ownday time meals from supplies. Dinner is made and enjoyed by the group on a nightly basis.Vegan and vegetarian options are available.  Drinking water is supplied.
Location of project
The Gladstone Region is located on Queensland's Central Coast and is home to over 67,000 people. Situated at the southern end of the Great Barrier Reef, Gladstone offers access to uninhabited coral cays, waterways and beaches. Its sub-tropical climate is perfect for year-round boating, fishing and swimming.
Gladstone itself is a hillside city, overlooking Port Curtis, Queensland's largest multi-commodity shipping port. Marine activities are the lifeblood of the city; the people of Gladstone own more boats per person than nearly any other community in Australia! Charter boats provide access to the area's many off-shore islands.
Mainland Australia is the world's largest island, but the smallest continent covering an area of 7.69 million square kilometres. Its ocean territory is also the third-largest in the world, spanning three oceans and covering around 12 million square kilometres.
Leisure Time
Once a week, staff and volunteers visit Gladstone to stock up on supplies and look around town.
Only minutes from the project location is Gladstone's most prominent natural landmark – Mount Larcom. If you are up for a challenge, why not climb to its peak, 632 metres above sea level? It might take a few hours, but once at the summit you will be rewarded with uninterrupted views of rural farmland, Gladstone's harbour and, on a clear day, the islands of the Great Barrier Reef.
If Mount Larcom sounds a bit too strenuous, try taking in the spectacular view from one of the more easily accessed lookouts in Gladstone, such as Round Hill Lookout or Auckland Hill Lookout right in the city.
On the city's foreshore you will find Spinnaker Park. Enjoy the native wetlands, explore the walking tracks or have a good old fashioned Aussie barbeque amongst the beautifully landscaped parkland. You can take a dip at the park's beach cove or relax at one of the many nearby beaches. Or perhaps take a trip to nearby Heron or Wilson Islands and experience all the magic of the Great Barrier Reef. Swim, snorkel or scuba dive with brightly-coloured fish and turtles or simply enjoy the peace and quiet.
If you like to throw in a line, consider a visit to Lake Awoonga, 25km south of Gladstone. The lake, which is Gladstone's primary water source, has been stocked with over 2 million barramundi over the past 10 years, along with several other fish species. For keen birdwatchers, over 200 species of bird can be found here.
Head back to Gladstone to experience the city's famous mud crab and fresh seafood, take in some culture at the Gladstone Regional Art Gallery or enjoy one of the many community events and festivals on offer.
If you are lucky enough to visit in April, enjoy watching the yachts arrive at the finish line at the Brisbane to Gladstone Yacht Race. If visiting in June, don't miss Ecofest, central Queensland's largest environmental awareness event, with its wide range of eco-friendly displays and stalls.
Please note that project staff cannot provide transport for sightseeing, therefore volunteers are best to either hire a car or see the sights before or after their placement.
Challenges
The project is based in a quiet location away from a major town.
Working in the heat, early mornings.
About Australia
Australia is a very big country, larger than Europe and nearly as large as the United States. Arriving in Sydney followed by a programme in Australian nationalpark is the perfect way of starting your Australia adventure. If you have more time make sure to travel the East Coast in order to experience rainforests, Frasier Island and little sleepy villages where surfers are enjoing life. Combine this with metropolitan cities like Melbourne, Perth and Sydney. Also there is interesting ancient history to learn more from in Uluru, Ayers Rock and the home of crocodiles in the Northern terrotories to explore. Don't miss out experiencing Australia!
Practical information
Flight
Flight tickets are not included in the price. You should book your ticket so that you arrive in Brisbane on a Monday. Fly to Brisbane, Australia, then fly to Gladstone. Volunteers may be picked up from Gladstone Airport or they can take a train or bus to the local town for pick up. If you are planning to go home right after the end of the project, you should book your return ticket from Brisbane the Monday when project duration ends. Make a point of checking that the arrival and the departure dates are correct according to your time at the project.
Visa
It is the volunteers responsibility to acquire the right visa for the trip. Different visa rules may apply depending on your nationality. Visit the embassy web page of your destination to find out what the visa terms are between your country and that destination.
Insurance
It is your responsibility to make sure that your insurance covers illness, injury and theft whilst you are volunteering. Most travel agency's sell a travel insurance that is valid for volunteer work, so be sure to enquire about it when booking your flight tickets. Volunteer Travels does however, supply liability insurance and is included in the price. Liability insurance applies to instances when compensation for damages is demanded of you, as a private person, for unintentionally hurting someone or for unintentionally damaging someone else's property.